Comments Off

on 'Tis the Season for Sharing
During the month of December, most of us are busy shopping, cooking, decorating and attending parties. Our days are filled with finding the perfect gift for our loved ones, baking dozens of cookies and deciding upon the best outfit to wear to each holiday event. Hours are spent with our families trimming the tree, lighting a menorah or celebrating the seven core principles of Kwanza. Regardless of which holiday we celebrate, most of us are engaged in a multitude of seasonal activities.
It's easy to get caught up in the hustle and bustle of the holiday season. But, it's always important to remember those who may need a little help at this time of year. This year, the employees at International Products Corporation (IPC) have banded together to give back to our community and help our neighbors who may be struggling to provide their families with a happy holiday.
In celebration of the holidays, IPC employees have contributed to two worthwhile causes: Toys for Tots and The Foodbank of South Jersey. Employees have generously filled our donation boxes with an array of toys and food to help those in need.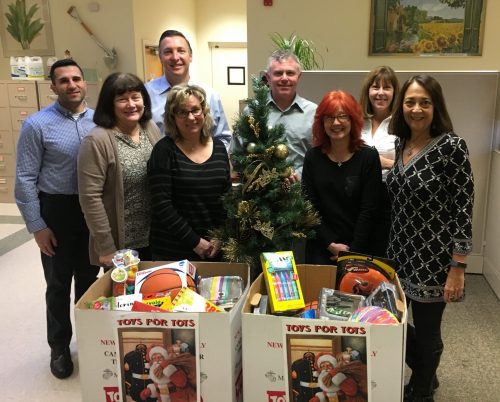 The mission of Toys for Tots is to collect new unwrapped toys and distribute those toys to less fortunate children at Christmas. The primary goal of the program is to help bring the joy of Christmas and send a message of hope to America's less fortunate children.
The Foodbank of South Jersey provides food to people in need throughout Burlington, Camden, Gloucester and Salem counties in NJ. Their mission is to make the holidays (and every day) hunger-free by providing nutritious, high-quality food to those who cannot provide for themselves.
All of us at IPC are grateful that we can celebrate with our families, showering our children with gifts and filling our tables with mouth-watering feasts. Knowing that our efforts may have helped less fortunate families feel that same joy is the best gift we can wish for this holiday season.
Best wishes to all for a joyous holiday season!