Comments Off

on The Importance of Cleaning Before Disinfecting
Disinfecting surfaces to kill traces of microbes and disease is a critical concern right now. A common misconception is that simply disinfecting a surface is enough to sanitize it. This is not the case, cleaning and disinfecting are both important parts of a thorough sanitizing process.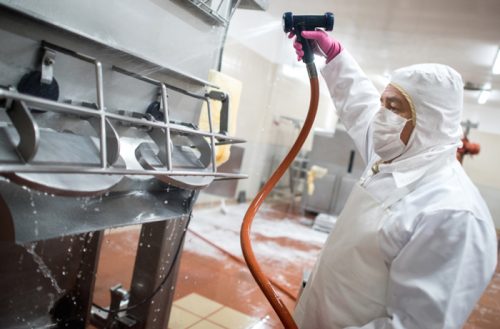 Why do both?
Surfaces must be properly cleaned prior to disinfecting. Removing traces of dirt, debris, and dust primes surfaces and equipment for disinfection. Soils can harbor germs and bacteria. Disinfection becomes less effective if surface soils are present.

What happens if I disinfect without cleaning?
If a surface is disinfected before it is cleaned, the remaining soils can still contribute to the growth of harmful microbes and lead to further contamination. The residual soils may also serve as a barrier, preventing the disinfectant from reaching the surface and doing its job. Lingering soils on the surface may affect the active chemicals in a disinfectant, impacting their efficiency. If the surface is thoroughly cleaned first, and validated for cleanliness, the disinfection step becomes much more effective.
What are the steps for proper cleaning and disinfecting?
Remove large debris
Surface rinse with potable water
Clean with a specialty detergent like Micro-90® or Micro® Green Clean
Rinse thoroughly with potable water
Disinfect
Rinse again
For regulated industries, validate the cleaning process
Contact IPC's product specialists for more information about hard surface cleaners for manufacturing and laboratory applications.
i (IFAS 2015 http://www.edis.ifas.ufl.edu/fs077)
ii (Safefood 360 2012 http://safefood360.com/resources/Cleaning.pdf).