P-80® lubricants are used in the manufacturing, repair and maintenance of trucks. Rubber assembly applications include bushings, leaf springs, chassis, and suspension components.
P-80® lubricants provide temporary lubrication to rubber or soft plastic parts.
P-80 assists in the assembly and/or repair of:
Air Intake Hoses
Bearings
Boots
Bumpers
Bushings
Cooling Hoses
Diaphragms
Door Seals
Engine Hoses
Exhaust Hanger Isolators
Isolators
Fuel Tank Straps
Grommets
Hangers
Hoses
Grommets
Insulators
Mounts
O-rings
Plugs
Radiator Hoses
Rubber Moldings
Seals
Sleeves
Suspension Bushings
Transmission Cooler Lines
Tire Mounting
Trunk Seals
Vibration Bushings
Weather Stripping
Window Seals
Windshield Washer Hoses
Wire Harnesses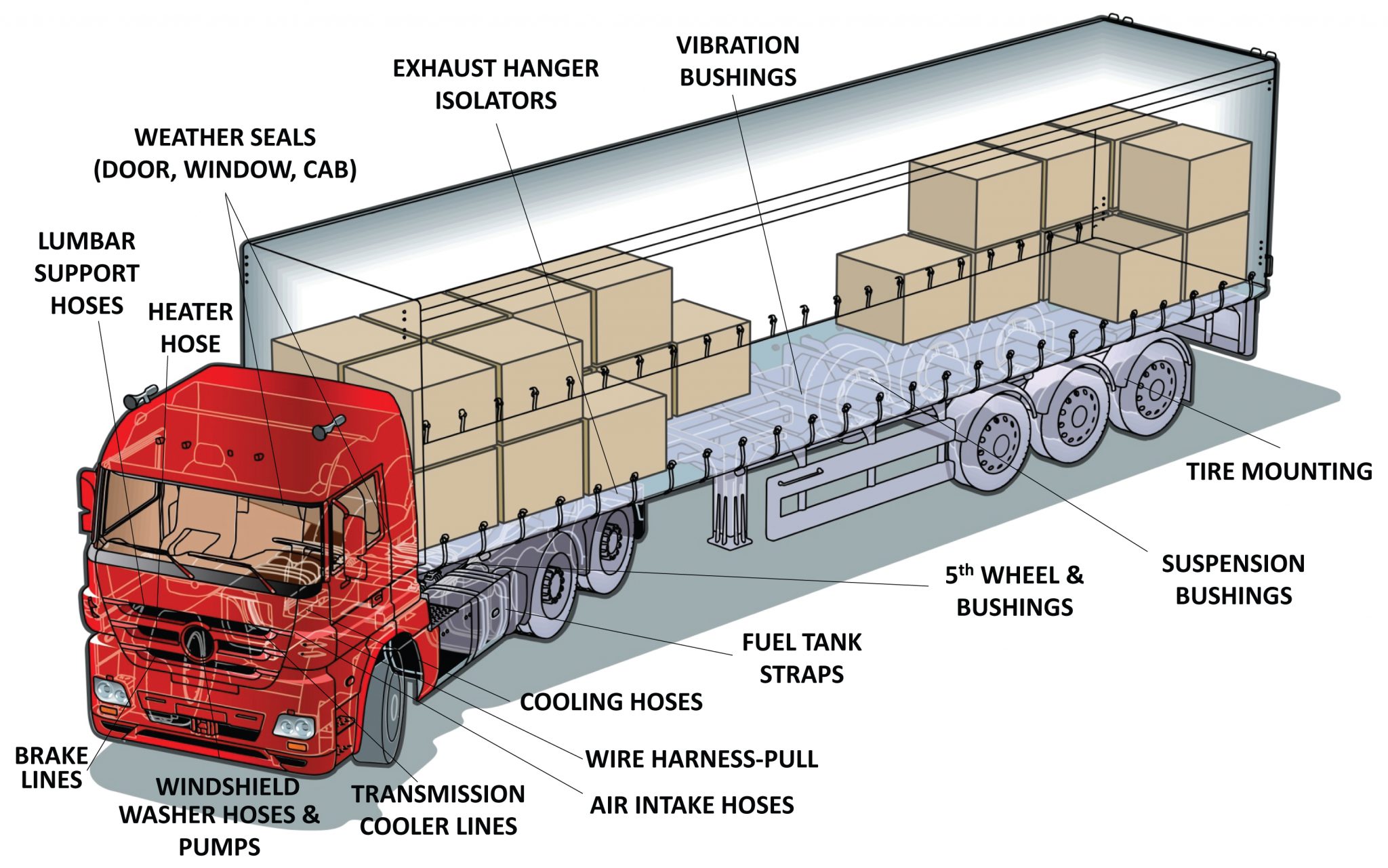 Our Line of Lubricants


All of our P-80® Lubricants are environmentally friendly, non-hazardous, and non-flammable, making them safe for workers and most plastics, rubbers, and metals. P-80® is available in four ready-to-use industrial formulas, as well as two special formulas that are registered with the NSF as H1 lubricants approved for incidental food contact applications:
The charts below are designed to assist in determining the best P-80® formula for different applications. Each P-80® formula has unique properties designed to meet the needs of specific types of rubber and soft plastic assembly applications. For many assemblies, only one P-80® formula may resolve the assembly challenge. In other instances, more than one P-80® formula might work well. Some facilities may approve and use more than one formula depending on the application.
P-80 SPECIFICATIONS
| P-80®LUBRICANT | pH | Estimated Minimum Dry Time | Viscosity, cps @25° C | Biodegradable | Reduction of Friction |
| --- | --- | --- | --- | --- | --- |
| P-80® Emulsion | 7.5 – 9.5 | 1 Hour | 150 | Y | ~70% |
| P-80® Grip-It | 9.8 – 11.3 | 20 Minutes | 20 | N | ~40% |
| P-80® RediLube | 7.5 – 9.5 | 20 Minutes | 20 | Y | ~55% |
| P-80® THIX | 7.5 – 9.5 | 2 Hours | 12,000 | Y | ~70% |
INCIDENTAL FOOD CONTACT LUBRICANTS
| P-80®LUBRICANT | pH | Estimated Minimum Dry Time | Viscosity, cps @25° C | Biodegradable | Reduction of Friction |
| --- | --- | --- | --- | --- | --- |
| P-80® Emulsion (IFC) | 7.5 – 9.5 | 1 Hour | 150 | Y | ~70% |
| P-80® THIX (IFC) | 8.2 – 9.4 | 2 Hours | 15,000 | Y | ~70% |
P-80® Resource Links: