Our firearm cleaner will effectively remove oil, stains and residue from your guns and firearms
A safe and effective firearm cleaner for all types of firearms. Including black powder and muzzle loaders.
Quickly and easily remove carbon deposits, powder residue, bore foulants, oxidation stains, old oil and grease deposits, and even more! Unbeatable detergency on carbon blue and stainless steel.
Why use a firearm cleaner from International Productions Corporation?
Why should you choose to use one of our our high quality firearm cleaning solutions? First of all, our gun cleaning products rinse away freely. As a result, no residue is left on your gun. So nothing is left  to build up on your firearm. Second, our products such as LF2100® Liquid Low-Foam Alkaline Cleaner are excellent on metal surfaces. One such material is stainless steel. Our concentrated liquid formulas dilute easily to meet your specific needs. Finally, all of our firearm cleaners come with free technical support . We even offer free material compatibility testing. Still not convinced? Ask for a free sample of one of our cleaners. Try on your own firearm.
Are you a serious gun enthusiast? If you are, then you know the importance of keeping your guns clean. Clean firearms result in improved performance and accuracy. In addition, the likelihood of a gun accident due to a misfire is greatly reduced. Certainly, firearm accidents is something we all wish to avoid!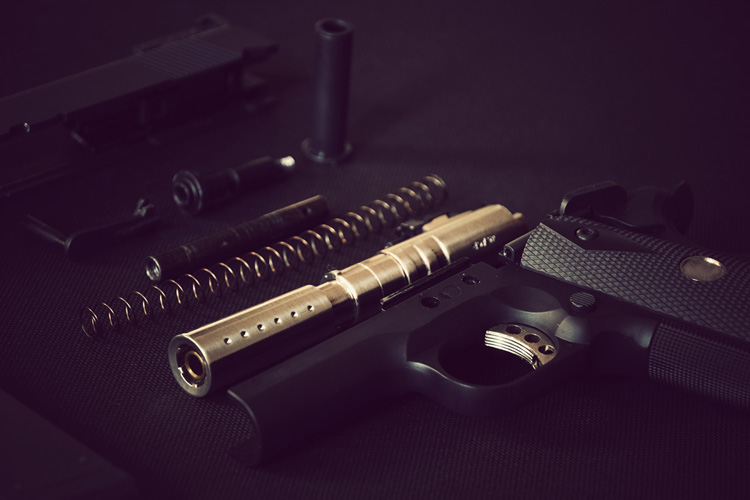 Our Fire Cleaner Benefits At A Glance
Free-rinsing
Does not leave residues or product build-up
Fast, effective soil removal
Excellent on stainless steel
Our liquid formulas dilute easily
Competitively priced
FREE technical support and material compatibility testing
FREE SAMPLES (subject to availability)
Removes:
Fingerprints
Oils
Particulates
Powder
Flux
Recommended Firearm Cleaners for the Firearm Industry:
Cleaner Resource Links: