Our precision cleaners provide consistent results with every use and leave surfaces completely clean.
They have been proven effective in critical cleaning applications including mixing tanks, tablet presses, fluid lines, batch process tanks, filter membranes, and other equipment. An economical 1-2% concentration in water is effective in removing gels, emulsifiers, oils, titanium dioxides, dyes, silicons, fragrances, petrolatum, paraffins, insoluble salts, oxides, blood and proteins.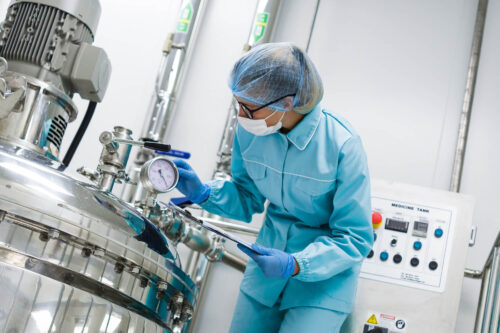 All of our cleaners are NSF registered as USDA-A1 cleaners and can be validated in FDA processes. Validation methods and health and safety data are available upon request. All cleaners are free of solvents, phosphates, silicates, phenols, and Substances of Very High Concern.
Laboratory research shows: To ensure an effective sanitization of equipment, it is essential for the surfaces to be thoroughly cleaned first.
IPC Cleaner Benefits
Free-rinsing, does not leave residues or product build-up
Fast, effective soil removal
Excellent on stainless steel, glassware, ceramics and most plastics
NSF-registered as USDA-A1 Cleaners
Solvent free
Concentrated liquid formulas for easy dilution
Competitively priced
FREE technical support and material compatibility testing
FREE SAMPLES available for testing
Phosphate free
Non-corrosive
*Sample validation methods are available.
Soils
Coatings
Organic soils
Biomaterials
Oils
Acids
Enzymes
Starches
Biofuels
Serums
Proteins
Gels
Items Cleaned
Spinner flasks
Fermentation tanks
Harvesting tubes
Ports
Gel chambers
Transformation tubes
Microcentrifuge tubes
Culture tubes
Slides
Lines
Tanks
Vats
Processing equipment
Filter membranes
Recommended Cleaners for the Pharmaceutical & Biotechnology Industry
Cleaner Resource Links