Our cleaners are used in the manufacturing of semiconductors, flat panel displays, CDs, DVDs, and many other electronic items.
They remove emulsions, particulates, oil, organic and inorganic contaminants from quartz, wafers, glass, silicon, ceramics, and metals. When rinsed properly our products leave no residue and your precision parts are ready for further processing.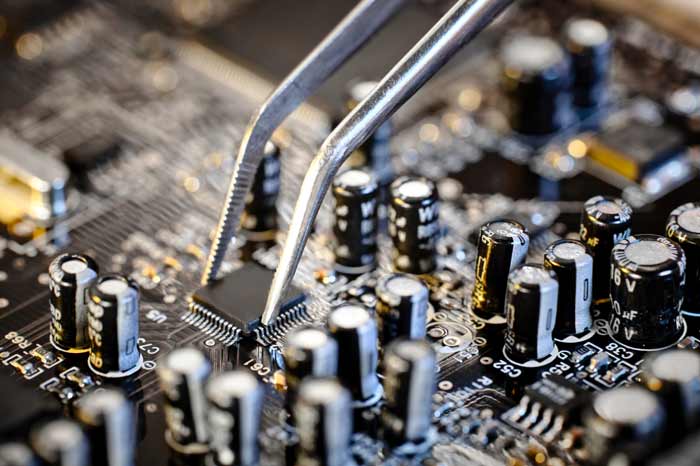 An economical 1-2% concentration in water is effective for most cleaning applications. Typical uses include removing fingerprints, oils, flux, titanium dioxide, silicons, petrolatum, paraffins, emulsifiers, insoluble salts and oxides. Use to clean hard surfaces including stainless steel, ceramics, plastics and glassware. Our line of cleaners can deliver the critical/precision cleaning needed to meet the most rigorous specifications for cleanliness.
All of our cleaners are NSF registered as USDA-A1 Cleaners and can be validated in FDA processes. Validation methods and health and safety data are available upon request. All cleaners are free of solvents, phosphates, silicates, phenols, and Substances of Very High Concern.
IPC Cleaner Benefits
Free-rinsing, does not leave residues or product build-up
Fast, effective soil removal
Excellent on stainless steel, glassware, ceramics and most plastics
NSF-registered as USDA-A1 Cleaners
Solvent free
Concentrated liquid formulas for easy dilution
Competitively priced
FREE technical support and material compatibility testing
FREE SAMPLES available for testing
Phosphate free
Non-corrosive
*Sample validation methods are available.
Soils
Grease
Oil
Flux
Resins
Particulates
Surfaces
Circuit boards
Connectors
Displays
Solar wafers
Recommended Cleaners for the Semiconductors/Electronics Industry
IPC CLEANERS
pH
TYPICAL SOILS REMOVED
LF2100®
Liquid Low-Foam Alkaline Cleaner
9.7
Emulsions, Fingerprints, Oils, Particulates, Shop dust, Soldering fluxes
Micro-90®
Alkaline Cleaning Solution
9.7
Emulsions, Fingerprints, Oils, Particulates, Shop dust, Soldering fluxes
Micro® Green Clean
Biodegradable Cleaner
9.8
Emulsions, Fingerprints, Oils, Particulates, Shop dust, Soldering fluxes
Surface-Cleanse/930®
Neutral Cleaner
6.5
Emulsions, Fingerprints, Oils, Particulates, Shop dust, Soldering fluxes
Cleaner Resource Links