Cleaner Sample
Request
Safe, High Quality Precision Cleaners
International Products Corporation (IPC) offers a full line of specially formulated precision cleaners that are among the safest yet most effective solutions on the market. Additionally, all of our cleaners are environmentally friendly.
A Unique, High Quality Customer Experience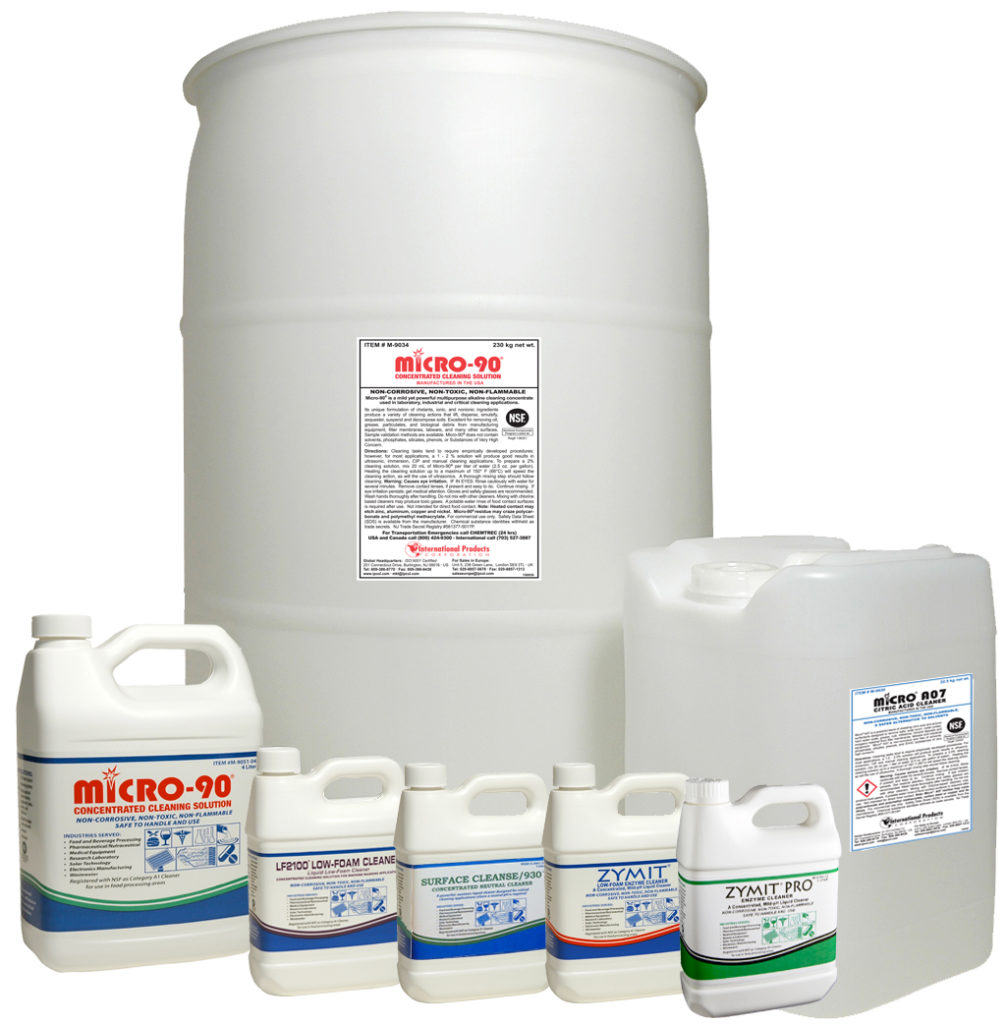 At IPC, our customers come first, and that means we focus on creating a value-added experience every step of the way. When you buy from IPC, you get more than just powerful cleaners. You also get expert service and personal attention. For example, we offer all of our customers:
Free Samples
See the power of our cleaners firsthand — before you buy. IPC offers free samples of all of our cleaners.
Technical Assistance
Whether you're not sure about the best methods for your needs or have complex circumstances that require hands-on process development, IPC offers complimentary technical assistance via our onsite lab to make sure you take the right approach. This assistance includes:
Material compatibility testing
Process and validation development
Residue analysis
Excellent and Responsive Customer Care
Have product feedback? Notice new demands as industry standards evolve? Something went wrong? Whatever it is, we want our customers to keep an open line of communication. In return, we promise to respond quickly.
The bottom line? We want to make your business part of the IPC family and work together with you to improve your cleaning operations.
High Quality Cleaners for a Variety of Needs
Our full line of precision cleaners is registered with the NSF as USDA A1 cleaners. Our products regularly help companies in the most highly regulated industries, including those who must follow FDA regulations.
All of our cleaners are free-rinsing, highly concentrated solutions that are both economical and environmentally safe — our cleaners are free of solvents, phosphates, silicates, phenols, and substances of very high concern.
Offering solutions for a wide range of cleaning applications, our precision cleaners include:
You're in Good Company
Organizations across highly regulated industries rely on IPC's precision cleaners to meet their compliance and validation testing requirements.
Industries Served
Aerospace
Automotive & Transportation
How to Choose the Right Cleaner
Which of our precision cleaners is right for you? Selecting the right cleaner is all about understanding the surface you plan to clean, the method of cleaning and water temperature you'll use, and the type of soil you have to remove.
We can help you develop the proper regimen based on your unique needs and have also created a chart to help guide the selection process:
Showing all 7 results
Description

Detergent Selection Guide





SOILS


Micro-90®


Micro® Green Clean


Micro® A07


Surface-Cleanse/930®


LF2100®


Zymit® Low-Foam


Zymit® Pro






Adhesives


✓


✓




✓


✓








Biofilm


✓


✓




✓


✓








Biological soils:
Blood,
Feces,
Mucous,
Sebum,
Sweat,
Urine


✓


✓




✓


✓


✓


✓




Dyes, Inks


✓


✓




✓


✓




✓




Eggs, Butter, Fruit Stains


✓


✓






✓


✓


✓




Emulsifiers


✓


✓




✓


✓








Fat


✓


✓




✓


✓








Fingerprints


✓


✓




✓


✓


✓


✓




Flavor, Fragrances


✓


✓




✓


✓








Gelatin












✓


✓




Gels


✓


✓




✓


✓


✓


✓




Grass


✓


✓






✓


✓


✓




Insoluble Salts






✓












Milkstone


✓


✓


✓




✓


✓


✓




Oils


✓


✓




✓


✓








Oxides


✓


✓


✓




✓








Paraffins


✓


✓




✓


✓








Petrolatum


✓


✓




✓


✓








Proteins












✓


✓




Scale






✓












Shop Dusts, Soldering Flux


✓


✓


✓


✓


✓


✓


✓




Silicons


✓


✓




✓


✓








Starch












✓






Tar


✓


✓




✓


✓








Tissue












✓


✓




Titanium Dioxides


✓


✓






✓