Comments Off

on Micro Green Clean: A Greener Cleaner Choice

Micro Green Clean: A Greener Cleaner Choice
Conventional non-green consumer and commercial cleaning products are potentially hazardous, carrying the risks of long-term illness due to over-exposure, asthma, chemical burns, irritation, or accidental ingestion by a person or pet. As the demand for effective cleaning products grows, manufacturers seek to develop effective formulations that contain more natural ingredients and provide safer user experiences.
International Products Corporation offers an aqueous, biodegradable cleaner with a gentle alkaline pH that effectively cleans many types of soils: Micro Green Clean. With its superior cleaning performance, Micro Green Clean makes your spring-cleaning process a lot easier, no matter your industry. Micro Green Clean is formulated exclusively with readily biodegradable ingredients. Our formulation is non-flammable and is free of phosphates, silicates, borates, phenols, halogenated compounds, CFCs, solvents, and ozone-depleting chemicals.
Continue reading to discover how Micro Green Clean works and the various applications where this precision, biodegradable cleaner truly shines.
What Are Biodegradable Cleaners?
Although there is no legal definition, biodegradable refers to the ability of a substance to be broken down into harmless byproducts by microorganisms. Readily biodegradable refers to the capability of at least 60% of the substance breaking down within 28 days. Biodegradable cleaners such as Micro Green Clean won't persist in the environment because they get broken down into nontoxic components.
In Which Industrial Applications Are Biodegradable Cleaners Used?
Biodegradable cleaners can be used in all types of industrial applications. Micro Green Clean is powerful enough to clean even the most troublesome soils, including:
IPC product specialists suggest Micro Green Clean for washing:
What Are the Benefits of Micro Green Clean in Commercial Applications?
Micro Green Clean is an effective multi-purpose cleaner for any industry.
Biodegradable chemicals are a safer cleaning alternative for both our planet and our environment.
Micro Green Clean is solvent-free, so it won't affect air quality or cause lung damage to users.
Unlike solvents, aqueous, biodegradable cleaners do not pollute soil and water.
Our highly concentrated formula is economical and eco-friendly! Save money and pollute less.
Micro Green Clean works with various cleaning methods, including clean in place (CIP), clean out of place (COP), manual washing, ultrasonics, and mild agitation.
IPC offers data and technical support to help you achieve the level of cleanliness you need.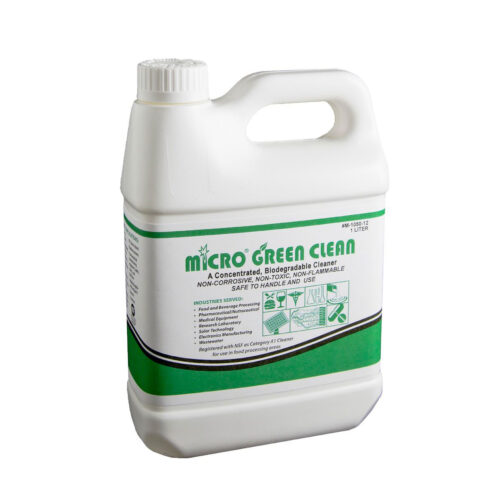 Get the Right Cleaners for Your Unique Needs
Whether you're in food services, manufacturing, retail, pharmaceuticals, agriculture, medicine, or any other industry, you likely need safe and effective cleaning supplies. Check out our selection of available sizes, browse helpful resources, and get the high-quality precision cleaners you need from IPC. If you have any questions about Micro Green Clean, need help choosing the right cleaners for your needs, or would like to place an order, please contact us anytime!