Comments Off

on Which P-80® Temporary Lubricant is Best for my Assembly Operation?
P-80 Lubricants are unique temporary assembly aids that do not contain any silicon or petroleum distillates or other persistent ingredients. They provide excellent lubrication by significantly reducing surface friction and are green and biodegradable alternatives to hazardous products. 

Which one is right for you?
Here are two variables to consider:
DESIGN TOLERANCE. How difficult—tight—is the assembly? If your answer is "very," then you need maximum lubrication: P-80 Emulsion or P-80 THIX. These excellent industrial formulas provide maximum friction reduction (up to 70%). P-80 Emulsion has a viscosity similar to milk, while P-80 THIX is a gel, ideal for vertical and overhead applications.

DRYING TIME. If you have an application that is subject to PVT or blow-off testing right after assembly, or if you are working with a non-porous part (think plastic or coated rubber), then you'll want to try P-80 Grip-it or P-80 RediLube. In the case of pressure testing, P-80 Grip-it works well as it contains an ingredient that provides a bit of cling once dry. 
All industrial formulas are designed to ease assembly processes and three of the four are biodegradable. All are water based and ready-to-use. All are temporary, containing no silicon or petroleum distillates so they result in a tight-fitting part without slippage once dry. These industrial lubricants reduce the force required for the assembly, installation and maintenance of hoses, O-rings, grommets, grips, seals, propeller hubs and other rubber and soft plastic parts. They also assist in bushing pressing, cable pulling, tire mounting and wire harness operations.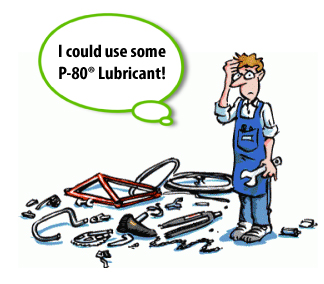 Whether you are a design engineer, materials engineer, lubricant engineer, ergonomic engineer, health and safety official, plant manager or line worker, our P-80 lubricants can increase production by reducing the time required for assembly. They reduce part breakage and rejects, as well as slippage and repetitive stress-related injuries, and are compatible with rubbers, plastics and metals. 
Our expert laboratory scientists have tested hundreds of materials, but can also conduct customized compatibility and lubricity tests for you and your parts. For information on appliance and food and beverage applications, watch this video. 
Please feel free to contact us with questions, to request a sample pack or place an order.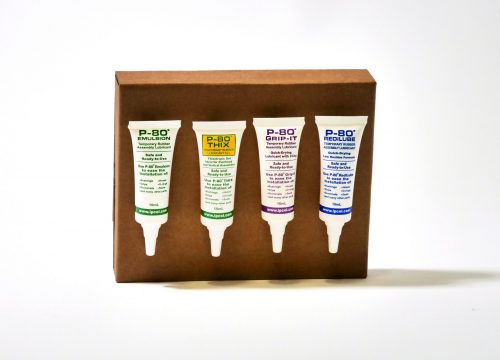 Thank you. Stay well, stay safe.
International Products Corporation