Selecting the Right Ultrasonic Cleaning Detergent for Regulated Industries
---
Tweet

Print
---
Regulated industries use ultrasonic cleaning for pharmaceutical equipment, medical devices, surgical equipment, labware, optical instruments, and dental equipment because it is highly effective at removing soil and debris before sterilization, especially on intricate or hard-to-reach parts. A detergent must be used in conjunction with ultrasonic cleaning in order to effectively remove most soils. A multipurpose cleaner is ideal because of its versatility.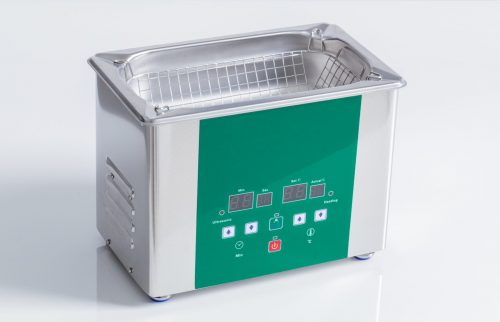 3 Things to Consider When Selecting the Right Detergent for Your Ultrasonic Cleaner
1. What are the Soils?
Understanding which soils you need to remove will guide you in choosing the right detergent. Micro-90®  is an alkaline cleaner that is designed to work well on a broad spectrum of soils. It is extremely effective for removing oil, grease, wax, tar, flux, particulates, and biological debris.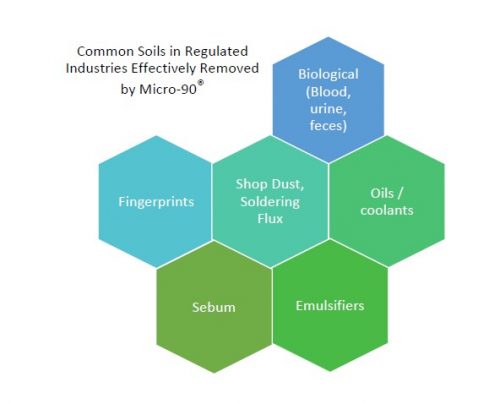 2. What are the Substrates?
Choose a cleaner that is compatible with the surface you are cleaning. Micro-90 is a safe for use on most metals, elastomers, plastics, ceramics, and glass surfaces. Samples are available for compatibility testing.
3. Safety and Environmental Impact
Most commercial critical cleaners are effective in removing dirt, but many are also corrosive, harmful if inhaled, and environmentally hazardous. Safer cleaning detergents will be free of phosphates, solvents, silicates, phenols, and substances of very high concern.
View this video to see the effectiveness of Micro-90 in ultrasonic cleaning.
Using Micro-90 in Ultrasonic Cleaning
Micro-90 is a multipurpose, alkaline concentrate that provides superior performance in ultrasonic cleaning. The ingredients in Micro-90 penetrate tough oils and greasy films, allowing the soil to become suspended in the solution without the risk of redepositing. These properties make Micro-90 just as effective as corrosive cleaners without the health or environmental risks. Micro-90 does not contain solvents, phosphates, or heavy metals. In fact, Micro-90 removes hard metals in water that would otherwise detract from the detergency of the solution.
The ingredients in Micro-90 were chosen for easy validation in an FDA process. Reports can be provided upon request. It is also NSF registered as a USDA-A1 Cleaner. Micro-90 can be used in concentrations as low as 0.5% up to 5%, and concentration can be easily determined by conductivity. Micro-90 has a high cloud point, making it easy to see when parts are clean. When properly rinsed, Micro-90 leaves no residue.
Try Micro-90 in your ultrasonic cleaning unit. Request your free sample!
---
Tweet

Print
---