What is the dry time of P-80®? (And, why it matters)
---
Tweet

Print
---
Why does dry time matter?
P-80® lubricants are temporary assembly lubricants. When P-80 is wet it provides the needed lubrication to reduce the friction of rubber parts during assembly. Once P-80 dries the lubrication ceases and parts stay in place.
Some assembly applications may benefit from using a quick-drying lubricant. This is often the case in processes where pressure testing takes place immediately after assembly, such as powertrain hose applications. In other assembly operations, achieving maximum lubrication may be the primary goal and dry time is less important.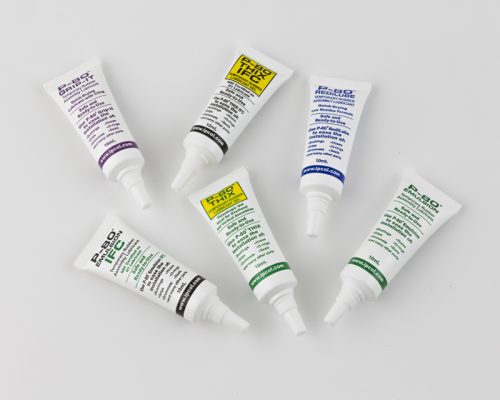 What is the average dry time for each of the P-80 lubricants?
While all P-80 products are temporary lubricants, the average dry time varies depending upon which P-80 formula you are using. The table below lists the average dry time for each of the P-80 lubricants.
Can I adjust the amount of time it takes for P-80 to dry?
The dry time of each of the P-80 formulas can fluctuate depending on the amount applied, part tolerance, material porosity, and temperature. In some cases it can take up to two days for P-80 to fully dry. The dry time of each P-80 lubricant can be altered by changing the variables listed below:
Volume of P-80 applied
Tolerance of Fitted Parts
Porosity of Materials
Temperature
If you have tested the above variables and are still not satisfied with the dry time, you may want to try a different P-80 formula.

For a quicker dry time try P-80 RediLube or P-80 Grip-It. For a longer dry time try P-80 THIX.  
Contact us to speak with a specialist and request a sample for testing. Download our free P-80 dry time ePaper for more information.
---
Tweet

Print
---