Frustrated by Heavy Duty Truck Assembly and Repair?
---
Tweet

Print
---
What is one of the most frustrating tasks of heavy duty truck assembly and repair? Installing or replacing rubber parts! Heavy duty trucks and trailers are full of rubber parts. O-rings, bushings, leaf springs, seals, hoses, engine mounts, belts and gaskets are just some of the parts that can be difficult to install or replace. Many of the chassis, engine and suspension components are made of rubber or plastic.
Rubber is naturally slip resistant, making it difficult to work with. Trying to install, remove or manipulate tight fitting rubber components can be a real challenge. Parts that are improperly aligned or installed may result in performance or safety issues. Using a temporary assembly lubricant, like P-80®, makes rubber installation easier and helps avoid these types of problems.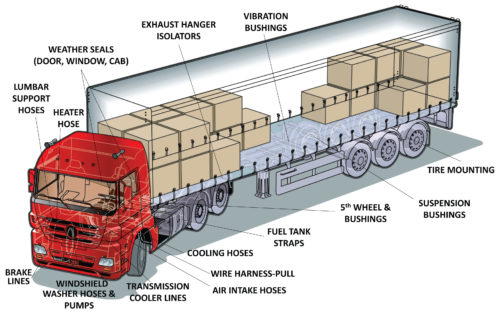 P-80 temporary rubber assembly lubricants are designed to decrease the installation force needed to install rubber parts, enabling them to slide easily into place with minimal force. And, P-80 lubricants do not contain any hazardous ingredients, making them safe for workers and the environment. P-80's unique, water-based formula is temporary; once dry, P-80 stops lubricating and parts remain in place.
The next time you're having trouble pushing a hose into place, inserting a leaf spring or installing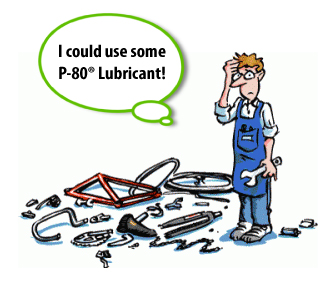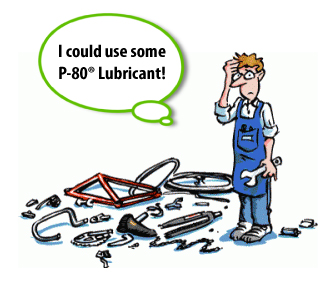 suspension bushings try using P-80 and see how much easier the job becomes. Temporary lubricants are ideal for truck applications because they reduce the friction needed for assembly and repair without damaging the parts.
Want to try P-80 for your heavy duty truck assembly or repair needs? Request a free sample.
Want more information about temporary rubber assembly lubricants, including how to use them and factors to consider when choosing a lubricant? Download IPC's free P-80® webinar.
Contact our technical team to help you find the best solution for your assembly needs.
---
Tweet

Print
---