Get to Know International Products Corporation
---
Tweet

Print
---
Who is IPC?
International Products Corporation (IPC) is an industry leader in cleaning and assembly solutions.  Family owned and operated, we manufacture everything in the USA.  We like to think of our company as responsible and responsive – to our customers, the environment, and the communities we serve.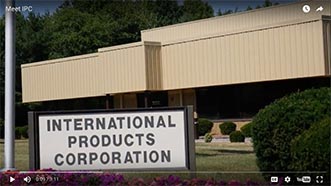 What We Do
IPC manufactures safe, water-based temporary lubricants and cleaners that can replace traditionally used corrosives, phosphates, solvents, petroleum distillates, and other hazardous chemicals.
P-80® Temporary Rubber Lubricants reduce the friction required for assembly.  They provide ergonomic benefits, increase outputs and reduce part rejections.  Available in six unique water-based formulas, P-80 is used to assemble hoses, O-rings, seals, bushings, grips, and other rubber and plastic parts across a myriad of industries.  P-80 provides superior lubrication without silicon or petroleum distillates, making it temporary and compatible with many materials. Once dry the lubrication is gone, and you have a tight fitting assembly.
Our specialty cleaning products are safe, effective and meet the highest standards across multiple industries, cleaning a broad spectrum of soils from all types of surfaces.  When cleanliness must be measured, IPC's green chemistry is able to produce some of the most powerful cleaners on the market. We can also help with FDA validation methods.  Our cleaners consistently serve the pharmaceutical, medical device, food and beverage, metalworking, electronic device, wastewater, filter membrane and many other industries.
We are Responsive and Responsible
We are responsive in supplying immediate technical and laboratory support to our customers and prospects.  Product development is often a direct result of industry needs and customer feedback – at IPC we listen to our customers.  We process all inquiries and orders quickly and comprehensively so you have the products and information you need when you need them.
We are responsible to the environment and our community.  We maintain a zero discharge policy at our specially designed, ISO certified, manufacturing plant in Burlington, NJ.  As we grow, we are committed to keeping abreast of environmental and regulatory trends and best practices to continually improve the quality and safety of our products and facilities.
IPC is truly committed to making the safest, most effective products possible for our workers, our environment and you, our customers.
---
Tweet

Print
---