P-80 for Bushing Pressing
---
Tweet

Print
---
Bushing pressing is a tough job.  It takes a lot of force to get the insert seated correctly.  In addition, the lubricant cannot be so strong that it slips back out.  Our P-80®line of water-based temporary rubber assembly lubricants makes bushing pressing easy.
Our P-80 lubricants are available in six unique water-based formulas that provide superior lubrication without silicon or petroleum distillates, making them temporary and compatible with many surfaces, such as rubbers, plastics, and metals.
P-80® lubricants provide a thin film of lubrication to significantly reduce friction during bushing pressing, enabling the parts to slide into place. And then, P-80 dries completely, resulting in a tight fit.
Silicon products are permanent and can cause slippage after assembly. Soaps may reduce friction to some extent but may have compatibility issues or leave an undesirable residue. Oil- and petroleum-based products may swell the rubber or leave behind a sticky residue and harm the environment. Our products are water-based and biodegradable.
Dry times vary depending on which P-80 lubricant you use.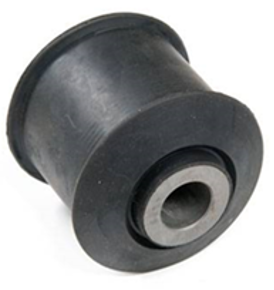 One customer wrote: "We had a design that required a tight-fitting rubber sleeve to slide 5 inches down a plastic handle. There was no way we could use a regular lubricant as the material left behind would damage the internal components. P-80 not only made the assembly insanely easier, but it also dried and disappeared inside. Great product!"
Another told us that he'd done a job without P-80, then did the same job again using P-80. "We will NEVER do any rubber assembly without P-80 again," he said. "It is a time and labor saver."
International Products Corporation ensures that our products are non-toxic and environmentally friendly, but when a customer told us: "It looks like you just rubbed plain water on it, but it smells like perfume," we had to laugh.
He went on: "Twenty minutes after using P-80, it's gone, evaporated. The first time I tried it, I thought it was the wrong seal. It went in so easily! Had to stop, get the manual out and check the numbers. NO comparison to oils or grease. And non-hazardous!
"The people at IPC are super helpful, couldn't be nicer, too," he added, which made us super happy!
Our staff is ready to assist you Monday through Friday, 8:00 AM – 4:30 PM (EST). You can call us at 609-386-8770 or go to the Contact Us tab to fill out a form requesting information. You can also request a free sample of one of our products or schedule a presentation on P-80 lubricants at your convenience.
---
Tweet

Print
---