STOP the Rubber Flubber! Use P-80® Lubricants for Appliance Assembly and Maintenance
---
Tweet

Print
---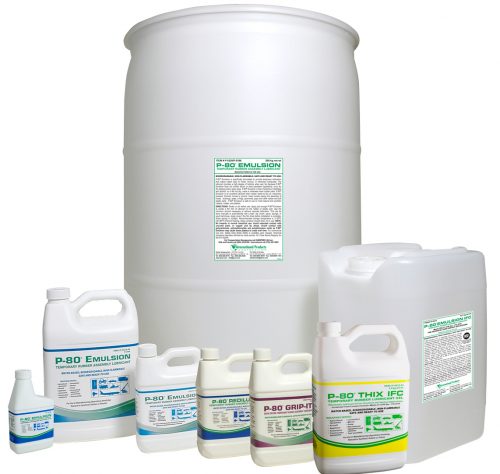 Whether you're a design engineer, an ergonomist, or a repair and maintenance technician, you'll come up against challenges in appliance assembly and maintenance—especially with countless rubber and soft plastic components. And you might need a specially approved H1 lubricant like P-80® IFC (for incidental food contact applications).
Dishwashers, washers and dryers, refrigerators, mixers, blenders, and many other appliances have rubber or soft plastic components such as O-rings, Hoses, Grommets, Seals, Pumps, Sensors, Sleeves, Drain hoses, and Intake hoses. The slip resistance of these parts makes assembly difficult.
P-80® temporary rubber assembly lubricants significantly reduce friction, helping these parts slide easily into place. P-80® lubricants are water-based, and do not contain alcohol. Unlike petroleum-based lubricants, silicone or Vaseline, P-80® lubricants are temporary—once dry, the lubrication is gone—and compatible with elastomers, metals and most plastics. They will not crack and harden, or swell rubber. They contain no CFCs, are non-corrosive, and provide up to 70% reduction in friction. And a little goes a long way.
A Bevy of Choices
P-80® lubricants come in a broad range of formulas and sizes to meet all appliance assembly needs.
 Advantages of Using P-80® Lubricants
Reduce force required for installation
Increase production rates
Reduce part breakage and rejects
Allow for closer-fitting part design
Reduce risk of musculoskeletal and slippage-related injuries
Choose from a variety of ready-to-use biodegradable formulas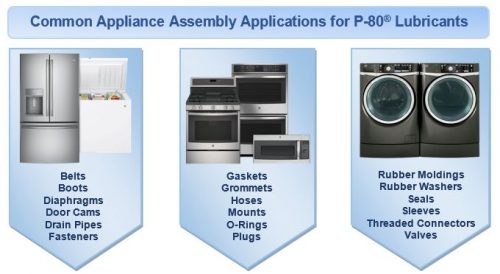 Please click or call us at 609-386-8770, Monday through Friday, 8:00 AM – 4:30 PM (EST)  if you have any further questions or if you'd like to test one of our products.  As always, we're happy to provide you with free samples.
---
Tweet

Print
---